Fungus nail, causes, symptoms, treatment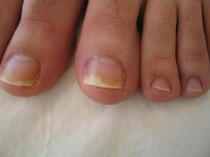 Onychomycosis is not a simple cosmetic problem . It can be affected by one or more nails of the hands or feet and most often this happens in the legs. This infection (candida) creates thickening of the nail (due to accumulation of flimsy material beneath the nails), discoloration (nail changes color becomes yellow, brown, black) and onycholysis (detachment of the nail from healthy skin).
The better you look after for proper hygiene nail and the sooner one starts the treatment, do not try to cope alone, the faster he will get rid of this troublesome problem.
Lesions begin in many cases with the appearance of a small yellow or white area under the tip of the nail. Over time, the claw is made thicker, while in the process becomes more brittle and the color changes.
Tight shoes, the use of the pool when it is used by many people, nail injury, and problems related to the circulatory system are some of the most common causes of onychomycosis. The immunocompromised, such as patients with diabetes are more prone to onychomycosis. The collagen diseases, long term use of cortisone or antibiotics, atopy, contributing to their appearance as well as heat and humidity there.
Fungus species
The species of fungi isolated frequently are species of the genus Candida, and dermatophytes (important role played by contact with the soil and the animals in the second case).
Fungal Diagnosis
The correct diagnosis is made by:
• Evaluation of the clinical picture.
• The full track (contact with animals, earth, travel, profession, promiscuity).
• Laboratory tests.
We should thus be collecting appropriate sample, followed by direct microscopic examination using . The process is completed by culturing the specimen in suitable culture media, the selection of which is then carried by medical history.
Forecast
Without effective treatment, which is done after mykitogramma for most fungi onychomycosis can be extended to more claws, as in the interdigital aspects. In some cases we also detachment of the nail from the ungual plate.